It is amazing to see how much our world gravitates towards great storytelling and we always find ourselves immersed in the new movies and new TV shows because they're often about magnificent stories and characters. What's even more amazing is to know the people behind the camera and those who work hard to bring these stories to life. Oftentimes knowing about their artistic process even inspires us to channel our own artistic side and tell beautiful stories like they do. This is why at New York Art Life we always believe in introducing artists who make a difference in the world especially those who impact us artistically and emotionally. The artist we will be introducing today is writer, filmmaker, cinematographer, and producer. His name is Dip Mazumder.
Dip's Current Journey with Turner Classic Movies
Dip has many artistic skills which he uses when he wants to tell a story and make films. This is a precious gift to have and to inspires others to do so to continue pursuing their dreams. He believes that the more artists there are the better. Currently Dip is working as an associate producer with Turner Classic Movies. This is a very prestigious filmmaking company where in which he has the responsibilities of creating and producing content for social channels and for air on TCM which is premium national cable channel. TCM is part of Warner Brothers discovery which is one of the biggest media companies in the world. Dip has been very happy to be working with this company because of the amazing stories that they bring to life and the quality of their narrative which is always something that audiences gravitate towards. Dip has a lot of experiences with this production company as he's also been their production assistant in the past, managing media, TCM original productions, etc. Dip mentions how being in a great company like this and collaborating with like-minded individuals in his field has oftentimes led him to create grand projects on his own and connect with audiences and a meaningful way.
Dip also reflects how working with Turner Classic Movies has given him the opportunity of filming conversations with giant film figures like Steven Spielberg, George Clooney, Paul Thomas Anderson, Anne Margaret and many others at the TCM classic Film Festival. He believes that these conversations are very important in the modern world for a film enthusiast to watch and understand these artists' processes when it comes to storytelling and it also gives audiences an insight into the issues that film makers have while bringing their great stories to life.
Dip's Experience with Short Films
Dip has also been focusing on projects which he works as a cinematographer. He believes there's hidden beauty behind the camera and he loves finding it every time he holds one. His most recent project was called Let's Be Heroes which was a short film. He worked on this project with Action Show Studios. This is a pretty huge production studio whose clients include Coca-Cola Chick-fil-A, Twitch and many others. It had a great turn out and audiences responded to it quite well. Another project that he's been working on as a cinematographer is called "Shotgun" Mike and they received a lot of praise and recognition being an official selection at the One Reeler Film Competition.
One of his most important projects is his film Here and Now where he had written, directed and produced. The film received amazing responses from audiences, and they received a lot of recognition. It was the official selection the Charlotte Film Festival, Longleaf Film Festival as well as the DC South Asian Film Festival. It was also a semifinalist at the Flickers Rhode Island Film Festival and finalist at the New York International Film awards. Dip believes that this short film is one of the most important steps of his career which involved looking deeply and reflecting on his own journey in life. He reflects on being very vulnerable when he was bringing that story to life and writing it down on paper. He knew it had to be injected with so much authenticity, sincerity, and compassion. He believes that he owed it to himself to create that project and tell his story. It also allowed him to collaborate with some of his favorite creators and artists who brought their strong, clear vision to the table. He's truly proud of this project and he believes it showcased the kind of stories that he wishes to always tell.
Another one of his successful projects is called The Last Job which was also a short film and Dip was the cinematographer. It did very well being an official selection at the Georgia Film Festival and the European festival. Dip remembers working with Suraj Savkoor and Sidharth Singh on this project as well as The Dragons where he was also the cinematographer. He mentions how fulfilling this experience was and he says that both directors collaborated with him and challenged him to see their vision and bring it back to life in its most unique, engaging, and dynamic form. And being the great cinematographer that he is, he successfully did so and stunned the audience. Dip is very fluent in specific techniques like extreme wide-angle lenses or Steadicam which gives film makers the opportunity to make films that go way above their category. He believes that this is guarantee that sincere collaboration and ambition is the most important factors in creating a masterpiece.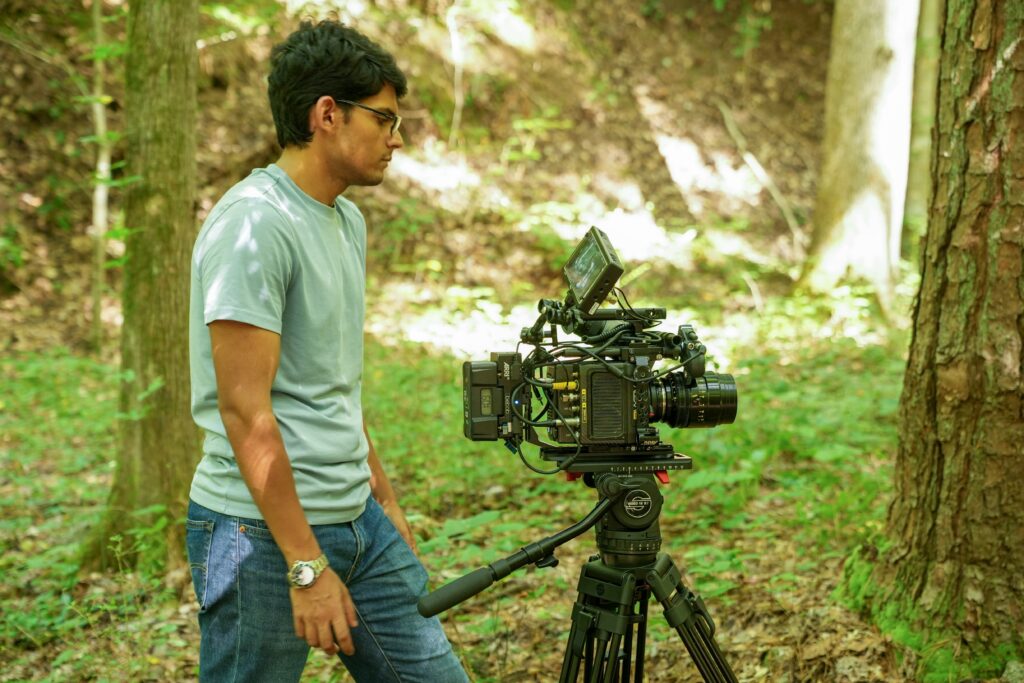 His Main Mission in Filmmaking
Dip is truly a passionate about representation, especially South Asian representation. He believes these groups of people are oftentimes misunderstood and their stories aren't truthfully brought to the media. His film Here and Now is mainly focused on creating a South Asian story that is sincere while it engages with what it means to be an immigrant and a second-generation immigrant and analyzes the dynamics of that kind of situation within the family. He is very happy to have cast actors that were of South Asian descent, and they did an incredible job of playing true authentic southeastern characters. Dip mentioned himself that "I find my purpose in finding stories that resonate with the authentic human experience and amplifying them into the world."