There's no better way for a guitarist to layer-up their tone piece-by-piece than with a looper pedal.
And that's because looper pedals are made to do just that. In fact, they're no stranger to the mainstream either. Ed Sheeran famously used a looper pedal – his custom Chewie 2 – to construct his songs live on-stage during a performance. A quirk that immediately set him apart from 99% of other artists in his niche.
Something that's not only a significant part of his success, but also his entire brand. With the music industry being as crowded as it is today, a loop station can certainly serve as a USP. Ed's living proof! So with that in mind, what is it about looper pedals that's so great? And why should you consider integrating one into your setup? Here's all you need to know…
What are looper pedals? How do they work?
In short, a loop station is much like any other guitar pedal – reverb, distortion, fuzz etc. It's a part of your pedalboard that allows you to switch-up the playback you get from your guitar.
However, while the majority of pedals are effects pedals (i.e. they change, alter or add effects to your guitar signal) with a looper pedal, that's not the case. Unlike the majority of guitar pedals, a looper is more of a functional pedal than an effect. And that's because, as the name suggests, a looper pedal is in many ways a recorder.
Strum 8 bars on your guitar while hooked up to a loop station, & providing you've pressed record, you'll be able to replay that loop over & over again on repeat. You'll also be able to layer it with other loops too – perhaps a couple of 4 bars or a 16 – to create a rhythm that's swimming in depth.
Plus, a seriously big perk of using a looper is that once all the layers/ loops are laid down, you as a performer, don't need to do anything. A detail that's seen many singers actually use a looper pedal as a substitute to a full band.
How to spot a good looper pedal?
Knowing what a looper pedal is, is one thing. But knowing how to spot a great looper – that's a whole other skill in itself.
Just as with virtually anything you buy these days- cars, clothes, jewelry – looper pedals come in a wide range of variants & specs. All of which can mean it's actually quite hard to spot a good looper, especially the one that's best for your setup. So to help you buy the right looper first time round, here's 3 ways you can spot a good looper pedal…
Consider who uses it – Sounds kind of naive, but it's true. An easy way to spot a looper pedal that's right for your setup, would be to take a look at those which have been used by famous musicians in the past. For instance, Ed Sheeran was always keen on Boss looper pedals, while Robert Fripp is known for using his very own Fripptronics looper. That way you know instantly which loopers/ loop station brands are reliable & are capable of helping you loop to a professional standard.
Don't always judge by brand – While with loop stations a brand can tell you an awful lot, it's by no means the 'be all & end all'. In fact, with there being more instrument manufacturers out there than there ever has been, you could say brand is now far less of 'a thing'; cheap looper pedals can often be a great starting point, especially if you're a beginner.
Assess the cost – With loop stations, the price can vary. So as you can imagine, that alone can be a big giveaway. Just as you can pick up basic loopers for as little as $50, you can also bag yourself a highly-capable professional looper for 10 times the price. Typically, the higher the price, the more recording slots, recording time & built-in effects you'll get, as well as more options that make the pedal more usable. For instance, multiple foot switches, extra inputs/ outputs, amongst other settings.
To see a selection of the best looper pedals you can buy today, be sure to check out this comprehensive rundown of loop stations.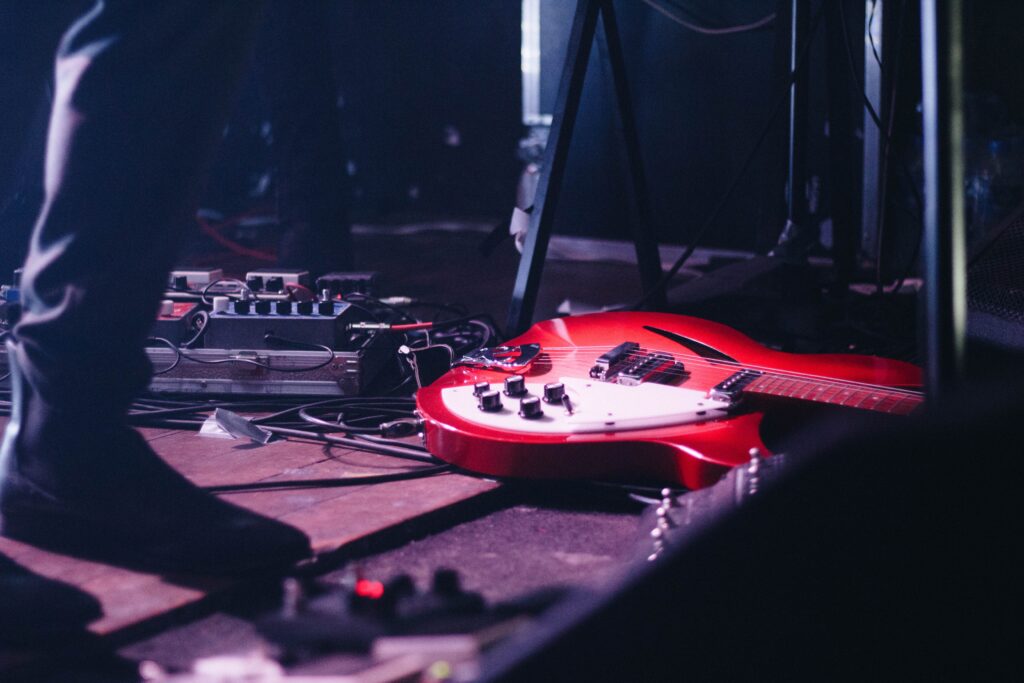 There's a loop station for every musician! Here's 4 different variants…
Just as there's different variants of guitars, amps, pres – pretty much any instrument or accessory you can think of – there's also a fair few types of loop stations too.
A point that's useful to know, especially when your choice of loop station can affect how well a looper integrates with your setup, as well as the possibilities when it comes to sound. Good info to have before choosing which looper you're going to use to make music. Therefore, here's the 4 main types of looper pedals you need to be aware of…
1. Slimmed-down budget looper pedals
If you're on a budget or have never used a looper before, these pedals are likely to be a good starting point. Typically single track & limited to just 1 or 2 footswitches, these loopers double as a great way to get a feel for live looping, as well as how it works with your guitar.
Examples: Donner Circle & Nux Core
Price range: $50-$100
2. Boutique loop stations
Those who are looking for a professional grade looping device will likely be more at home with a boutique looper. Go boutique and what you get isn't just more of everything: memory, recording slots, built-in effects etc. But also all the integrations & inputs you need to make your looper pedal a fully-integrated part of your setup; boutique loopers are less like quick add-ons.
Examples: The Boss RC 600, Headrush Looperboard
Price range: $200-$500
3. Multi-effects pedals with built-in loopers
If you're after a looper, as well as a bunch of other effects, then a multi-effects pedal may be your best bet. Simple reason being that (much as the name implies) the majority of multi-effects pedals have a looper built-in. So while you could build a pedalboard setup from the ground-up & factor a looper into that, with multi-FX, you can simply buy one giant pedal that functions as your entire pedalboard.
Examples: Line 6 HX Stomp, Mooer GE-100
Price: $150-$1000
4. Hand operated/ tabletop loopers
It's important to remember that not all looping is done by guitarists; some of the most famous live loopers use their hands when looping tracks. It's in this instance where a tabletop looper comes into its own.
With this type of looper, conventional footswitches are replaced with soft touch buttons, enabling you to loop pretty much any instrument you want on the fly! It's easy to spot a tabletop looper by its design – in general, it's a lot more hand-on.
Examples: Boss RC 505
Price: $300-$600