Just American News got a chance to interview Mariann Yip in regard to her book Un-Hinged: What I Learned from Saying, "It's You, It's Not Me" in the NYC Dating Scene. We got insights into her new book, her source of inspiration and much more!
Q. Welcome to Just American News! How is life in New York?
Mariann Yip: Life in New York is beautiful! Spring is right around the corner, so I'm definitely looking forward to warmer weather. And speaking of New York, I'm a native, so I have a very special relationship with the city because this is my home. I admit that the city can be chaotic, overwhelming and stressful at times, but the energy and hustle is what makes New York New York. It has been my backbone and support system after all these years and I owe a lot of who I am and what I do to the city. I mean, my blog is literally called MARIANNYC and my podcast The City Confessions, is all about diving into stories with other New Yorkers, so yes I love New York and can talk about it all day!
Q. Please tell us about your upcoming book Un-Hinged: What I Learned from Saying, "It's You, It's Not Me" in the NYC Dating Scene.
Mariann Yip: I am so excited to announce that my first book Un-Hinged: What I Learned from Saying, "It's You, It's Not Me" in the NYC Dating Scene is out now! It's about my dating experiences in NYC, but more than that it's a book about self-development, self-discovery and self-love. My book is entertaining and raw and offers a fresh lens to the reality of dating in a busy and big city like New York and is a modern take on 'Sex and the City.'
There are 12 chapters in total and every chapter dives into the lessons I've learned from each suitor. And when you're reading it, it's as if I am calling you to dish about these men, so I don't sugarcoat anything and it's as authentic and raw as it gets.
But I do want to also emphasize that even though the premise is about dating and is targeted to single women, it's a book about navigating life and figuring out who you are in the world. I also talk about the role of therapy in my life because I applied the lessons I've learned to my dates and relationships. Other major themes of the book include the importance in healing past wounds, recognizing patterns, and the power of boundaries and self-awareness.
Q. What motivated you to write this book?
Mariann Yip: I actually wrote this book at the beginning of the pandemic as a creative outlet. I would tell my girlfriends about my dates (as most women do) and they would always be fascinated by my stories, especially those who are in a relationship. They were basically living vicariously through me and my best friend encouraged me to write a book. She thought my dates were unique, real and entertaining. It's not what you see in movies or films and I honestly couldn't make these stories up!
I've also always wanted to be a writer and I thought it was the perfect timing. To be honest, I wasn't sure if I was going to publish it but when I sat down to write it, I was surprised by how naturally and effortlessly the words came out. I joke as I reflect on those days and say that the book practically wrote itself. It was a very therapeutic process and I am so proud that it is out and I can now say I'm a published author.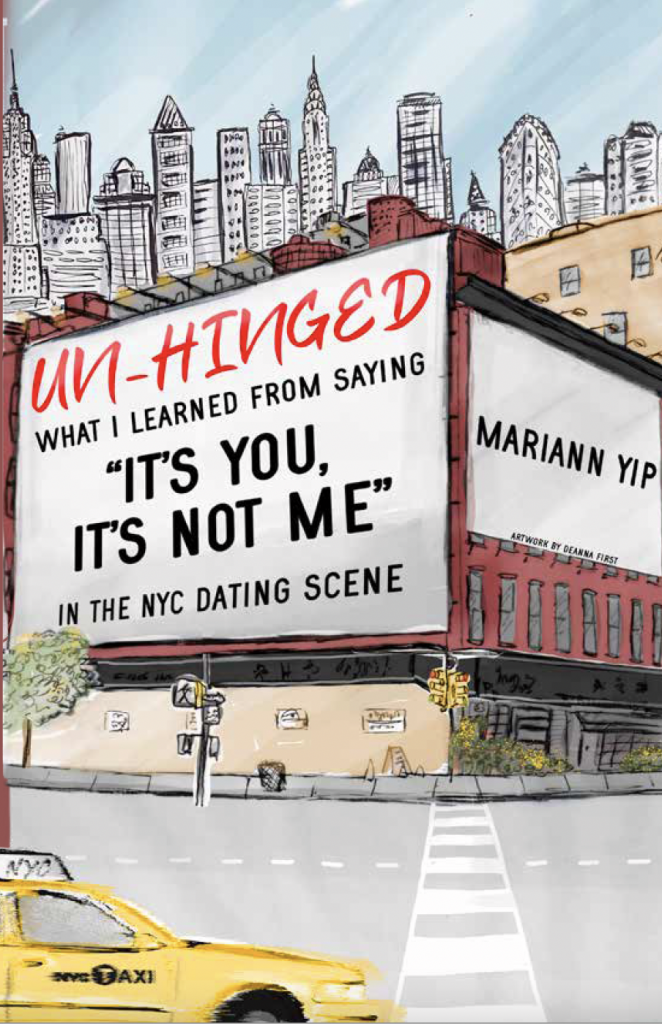 Q. Any tips or advice for aspiring writers who want to share their own personal experiences with the world?
Mariann Yip: I can't say that I didn't have hesitations when I decided to publish this book. And I can't say that I don't have any fears now because the truth of the matter is, I do and I think that's normal. But then I remembered that I wrote this book for myself. I wanted to talk about my dating experiences in an authentic and relatable way. I wanted to tell my story in the hopes that it would offer compassion for those who are putting themselves out there in the search for love. So my biggest advice for those wanting to share their personal experience with the world is to make sure their decision stems from a place of peace.
Any writer or creative will know it's not easy to share your work with the world because it's a vulnerable thing to do. I poured my heart and soul into this book and once it's out there, it's out there. So I would advise aspiring authors to honor the process, but detach themselves from the outcome. And know that beautiful things happen on the other side of fear!
Q. What's next? Which book are you working on now?
Mariann Yip: I want to celebrate this accomplishment before moving to the next (whatever that might be). Too often, I think we jump to the next project but we don't take enough time to celebrate our wins. So I want to be fully present and embrace this beautiful moment because it's a huge thing for me. I also won't get this moment back. I won't launch my first book ever again so I need to make sure I don't glance over this moment. I'm taking it all in! But I can and will say that this is just the beginning.
Q. Finally, as we ask all our guests on Just American News, do you have any closing thoughts that you would like to share with the world and our readers?
Mariann Yip: I would love to share a snippet of my conclusion in my book because I think it's the perfect way to end this conversation:
Before deciding to write this book, I always said I wanted to make the most of this life I've been given. We hear it time and time again that we only have one life to live, and it is often said that we need to appreciate every moment because we can't get them back. But if I take a moment to truly wrap my head around that reality, I think, Holy fu*k, it's so fu*king true. I wake up every day with a fire in me, and I am consistently motivated by accomplishing what's on my bucket list as well as my fear list. I am driven to release all the what-ifs, to get out of my comfort zone, to experience everything there is to experience and to just live my fucking best life. It's funny that I also adopted this metaphor that we are all writing a book in our lives before actually deciding to finally write this book. I used to say I want to have stories for days. Also, I don't just want my book to have exciting chapters, but rather, I want to expand my chapters into volumes and a full series. Take a moment now, and think about your life. What's your book about? What stories stand out to you? How many chapters have you written? Can you write more?
About the author: Mariann Yip is a native New Yorker and was born and raised in the Lower East Side in the beautiful city that never sleeps. She is a lifestyle and travel blogger who shares tips and travel adventures at www.mariannyc.com. She hosts the podcast The City Confessions, in which she leads ongoing discussions with other New York residents to share their truths and stories. Mariann's mission is to create a safe platform for storytelling and to normalize pain, struggle, and vulnerability.
About the book: In Un-Hinged: What I Learned from Saying, "It's You, It's Not Me" in the NYC Dating Scene, Mariann Yip recounts her dating experiences from over a span of two years in New York City. Written with the familiarity of Mariann telling her close girlfriends about her dates for the first time, each chapter presents a different suitor and dives into the lessons she learned. With each of the twelve men she discusses, she reveals the ups and downs of online dating, the realities of dating in a city like New York, and the personal development she experienced in her late twenties. When it comes to dating, love exists and will come and go. It's important to remember that finding love is a journey and takes patience and time. Your unique dating experience is valid, and the way your relationship ends does not define your worth or what you deserve. And, most importantly, you should never settle, because oftentimes, honey, it's them―it's not you.
The book is now available on Amazon!
For more details visit: www.un-hinged.com
Follow Mariann Yip on her official social media: Instagram